What is a bartender?
It is often hard for customers to tell what it takes to become an excellent bartender. Also known as a barman or barmaid, this job requires proper training, a lot of passion and a continuous work on oneself. The bartender must be versatile and efficient to create a pleasant atmosphere and make sure that the customer has an unforgettable experience. He/she takes care of the bar set-up and upkeep, the inventories and the cocktail preparation.
He/she plays a business role since it is up to him/her to sell the bar products. He/she must have great manual skills and know how to satisfy customers' needs while making sure to always maintain a pleasant atmosphere. In this way, he/she increases the profitability of the bar or restaurant he/she works at. This job requires a lot of knowledge, both physical and personal skills and perfect stress and time management.
10 qualities of a good bartender
We offer you a non-exhaustive list of the qualities required to be a great bartender:
Personality

: this is a prerequisite to break into the field. A good bartender has a fun, optimistic, warm and sociable personality. He/she must be able to communicate easily with guests and know how to put them at ease.

Know-how

: by learning how to serve, create cocktails and entertain people, the bartender becomes more and more agile and efficient.

Communication

: to ensure good communication, the bartender must remain attentive to the general atmosphere, be aware of his/her customers needs, have excellent listening skills and know how to ask the right questions.

Beverage knowledge

: a good bartender must be well trained about the products he handles on a daily basis. He/she will certainly be asked for recommendations or improvisations and he/she must know how to handle them.

Ability to sell

: excellent bartenders are those who know what products they sell, how to sell them and, particularly, to whom to sell them.

Professionalism

: considerable care and attention to detail are required in this job in order to manage the bar and its cleanliness, ensure the products quality and maintain good relations with the guests.

Teamwork

: the bartender is part of a whole team and a good synergy between all members must be present.

Organization and time management

: this work requires detailed organization and habits that save time and adapt to all conditions.

Stress management

: a good bartender should always keep a cool head.

Confidence

: this confidence is acquired at work and stems from all of the characteristics mentioned above.
Get personalized recommendations on bar and restaurant inventory management.
How to prepare for a shift?
This preparation is essentially based on time management and efficiency, it aims to anticipate the course of the working day in order to optimize time and ensure that each service runs perfectly.
Service routines
Tools must be in their place and all equipment must be functional. The entire bar must be well organized and ready to start a new day. Cleanliness, product filling and their arrangement as well as the distribution of tasks must be ensured before the start of the service. Inventory management software can make this a whole lot easier.
Keep in mind that during this time, which usually occurs between lunch and dinner, the priority is to ensure and keep excellent customer service, so restock the bar when needed and make sure it is perfectly clean and organized for the second half of the day.
Cleaning is a priority to keep all equipment sterile and functional. Equipment is dismantled and rearranged according to space traditions and products are stored to facilitate the next day's opening routine.
Five questions to ask before each service
Before starting each service, the bartender should ask him/herself five questions to know if he/she is ready:
– Are there enough products in reserve?
– Is the equipment ready and functional?
– Are the ingredients fresh and well preserved?
– Is the bar clean?
– Is the service adequate for the shift?
5 tips for counting your bar inventory
There are several types of bartenders
The work environment for a bartender is different from one place to another. All bars are different and each place requires particularities that correspond to its service. In bars with huge flows, speed and efficiency are the key to a good working atmosphere and are the qualities sought in the bartender.
In a restaurant, the bartender's duties vary between serving and bartending. He/she must know how to communicate with the kitchen team to exchange recommendations and ensure quality service. The bartender must have in-depth knowledge about food and beverage pairing.
In taverns and small bars, the bartender must have a good relationship with the clients. He/she must know how to listen, identify the customers needs and gain their trust. In specialized bars (wine bars, whisky bars, beer bars…), the barman must be an expert in the products he/she sells in order to guide customers and guarantee them an exquisite experience.
As for mixologists, on contrary to what one might think, they have a task that goes beyond the simple creation of cocktails. It's a job that requires a lot of research and creativity to create original cocktails and whimsical drinks, but also to ensure the well-being and safety of their guests.
A good bartender knows his/her way around glassware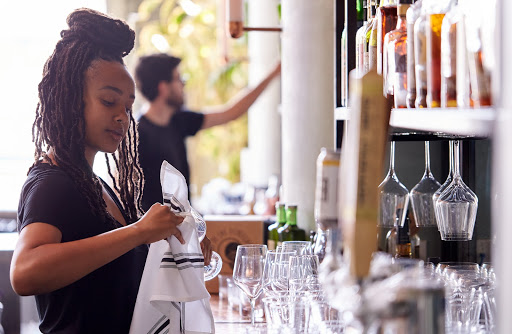 Types of glasses
There are various types of glasses that the bartender must know how to use on a daily basis. Here are a few of them:
Tasting glasses

Shot glasses

Flute cups 

Whiskey glasses

Cocktail glasses

Cup

Balloon glasses

Etc.
Glassware rules
Always use the appropriate glassware for each drink: shooters, stemmed glasses, short or long drinks, decanters and sets, etc. The glassware should always be at room temperature. If the dishwasher is used, make sure to let the glass cool down a little, as pouring ice on it while it is still hot can break it.
Each glass served should be clean, even sparkling. If a drink is served in a dirty or spotted glass, it loses all of its taste. Cracking must not be tolerated and inspection is always required before preparing the drink. These rules mark the quality of service as well as customer satisfaction and safety.
Tools needed for the bartender's job
A good bartender must know how to skillfully use all his/her work tools:
The shaker that mixes the ingredients.

The mixing glass into which the ingredients are poured and then mixed with a spoon.

The blender used for fruit-based cocktails.

The blender that makes velvety smooth drinks used as a base for cocktails before we add the other ingredients.
Preparing cocktails
A cocktail is a mixture of liqueurs mixed with juices or aromas. Product diversification on the market continues to increase so new techniques and interpretations of cocktails always emerge. To know how to prepare cocktails, you should learn about their main components, namely :
Base alcohol

: which can be neutral or flavoured according to the customer's taste.

Acid

: usually found in citrus fruits. It softens the taste of alcohol.

Sweetness

: which comes from fruit, syrups or sugar.

Bitter aftertaste

: to balance out the overly sweet taste of some cocktails.

Aroma

: this is the ingredient that makes each cocktail unique and gives it an attractive scent.

Ice

: present in almost all cocktails, it changes in size and shape, but always adds freshness and beauty to the drink served.
Always think about the presentation of the cocktail, because an original appearance is an unparalleled selling point. Cocktail presentation has the power to impress the guest and win his heart or do the opposite. Mastering the preparation of cocktails means respecting the rules of glassware, arousing the customer's curiosity, and using products that are always fresh and attractive.
Bartender training VS work experience
Taking courses at school provides the knowledge needed for cocktail preparation, bar operation, but also the relevant information that a good bartender should know. However, nothing beats the hands-on experience that forges the bartender's personality. This is where he/she learns to work as a team, to create his/her routine and to face all the challenges of daily life. So theory and practice are just as important to becoming an excellent bartender who is full of know-how and who knows how to communicate with both his/her team and customers.
Tips to become a better bartender
– Take the job seriously and see every day as a learning opportunity.
– Always practice hand skills and get used to creating cocktails.
– Read various books on alcohol and mixology.
– Attend seminars and conferences to keep up with the latest news and trends.
– Keep the passion for work and remain authentic to oneself.
For a better management of your bar, contact Rapid Bar!