Control your costs, optimize your bar stock levels and place suppliers orders in one click
The best inventory app for your big comeback
Start optimizing your business today with RapidBar
Save up to 80% on time spent counting your bar inventories
Go paperless and eliminate transcription errors when managing your bar inventory
Find opportunities with detailed variance reports
Cut the time spent on bar supply management so you can focus on creating an outstanding customer experience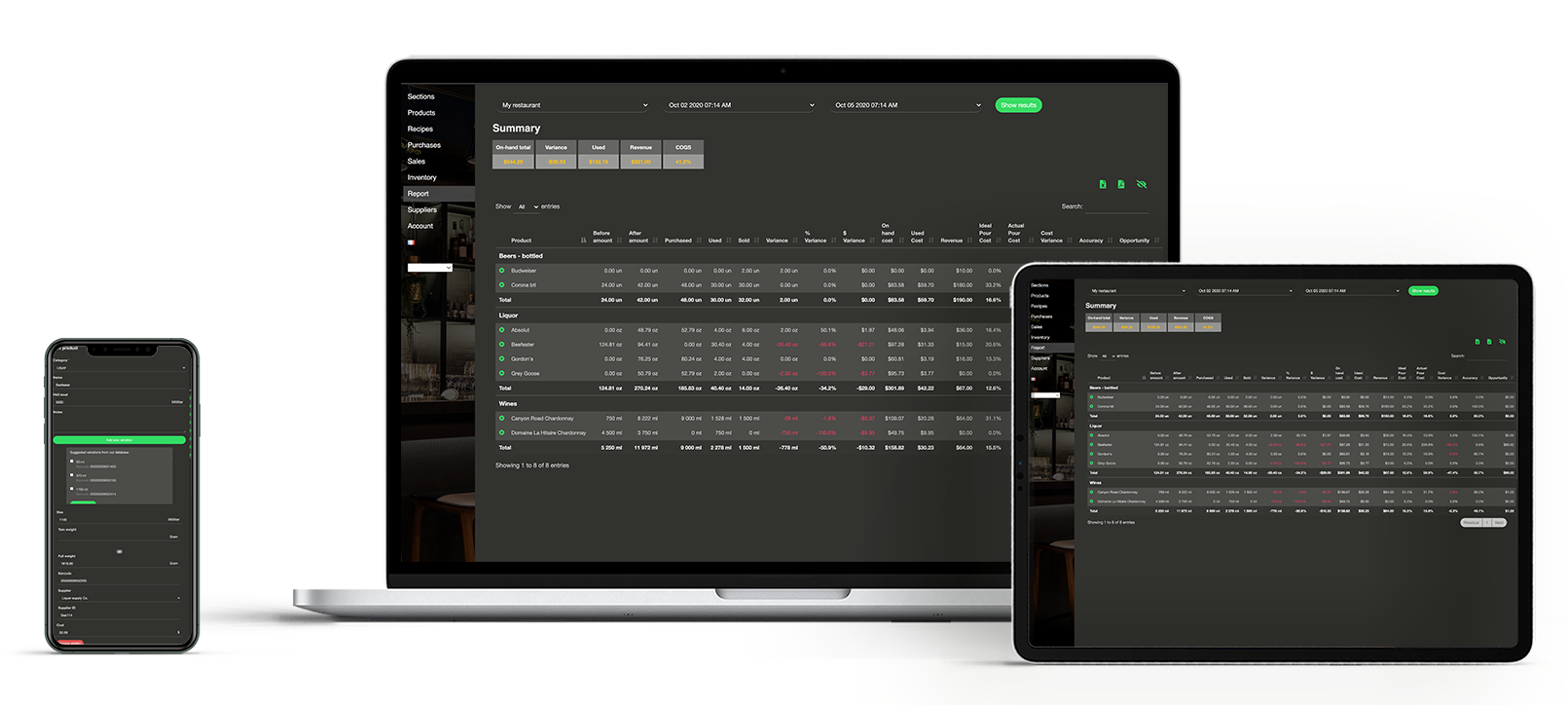 They use RapidBar everyday
Why your business need our app for bar inventory management
Cost control features
Better management of profit margins in your bar by automatically calculating and controlling drink cost.
Simplified purchasing
Orders to your suppliers are managed directly into the app, filtering par level, and out-of-stock.
Better collaboration
Assign permissions to multiple users in the mobile app for better control. Coworkers can do inventory count but have no access to the data they don't need.
Access data anywhere
Ensure better business decision-making for your bar with easy access to all the inventory data you need, anywhere.
One important thing to consider when looking at inventory PAR levels is not just what the price per unit is. An important factor is how long that equipment has been in service. Changes in your manufacturing process are inevitable, and they eventually lead to equipment getting worn out and that equipment being replaced. After reading…
What is inventory turnover?  Inventory turnover refers to how often a restaurant sells and has to restock their inventory. A high inventory turnover means you are selling things at a quick rate. It also gives you insight into your purchasing habits and whether you are over or under buying your inventory.  When calculating inventory turnover…
Partner with RapidBar to:
Manage your liquor orders and your liquor sales
Track your inventory directly in the app
Avoid liquor discrepancies and bar count variances
Stock data and avoid paperwork
Identify bar and restaurant liquor errors
Extend your POS bar inventory features
Automate suppliers orders calculations and receiving
Manage efficiently with our bar inventory app
A bar inventory app is helpful no matter what stage your liquor business is in. If you have just opened up a new bar or restaurant and are not sure where to begin, the Rapidbar app can help you manage your liquor orders, sales, the inventory of your bar and even help cut down your costs. It is also very useful if your business has been running for several years and you're tired of bar and liquor profits being wasted.
If your liquor business needs an easy way to manage costs, reduce deadstock, and recognize the causes of loss in your inventory our bar app features solutions for all these and more. Run your liquor business, bar or restaurant with ease with the Rapidbar app. Point of sale tracking and integrated features allow seamless tracking of inventory variance as well as cost management of your bar.
Through our app, liquor batch information and restaurant bar recipes are available on a day to day basis for better stock control. The app provides instant and daily access to sales for retail and inventory count, which prevents liquor discrepancies and bar count variances.
RapidBar app also helps you reduce your labor costs. Manual inventory counting requires employees that need to be paid and often need to stay late to manually count inventory. Real time updating of inventory from the app helps you save time instead of manually inputting liquor data into a spreadsheet. The app helps prevent errors in inventory count audits for your bar service.
Increase your liquor sales with our bar app by saving hours on inventory management. Use the time you save to focus on increasing sales.
By using our app, you can forecast your liquor sales for your bar or restaurant based on events, holidays, and other factors. Directly from the app, manage your inventory by placing liquor orders to match sales trends and avoid falling short on popular liquors by having up to date inventory, which will not only meet demand but also increase bar profits (you won't have to turn customers away due to shortages in stock).